White is out and about on the streets now that Easter has come and gone. It is such a clean, cut, fresh color to wear all throughout the summer and spring-time months. This sophisticated look can be worn many different ways. It is a great color to wear for this time of year because it reflects the light and absorbs perspiration, so even when the steamy rays are coming down, you'll keep cool. With all of these great reasons to wear white, there are still some things to keep in mind. Remember that white is very sheer and you need to think before putting on bright colored undergarments. Be careful when wearing white- don't wear it to an event where you will be doing anything messy. And most importantly, don't wear white to a wedding- keep that for the bride. So while keeping all of these things in mind, here are so great ways to wear white and shine in these hot months.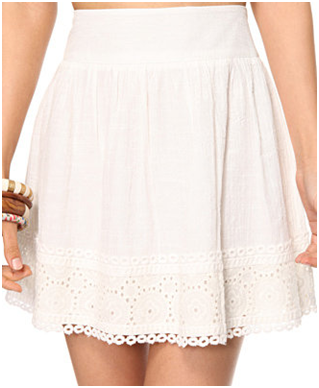 White Eyelet Skirt- Forever 21
$17.80
This white little eyelet skirt is perfect for brunch or shopping around the town. It is a light fabric so it keeps you cool and it is very summer-time looking with the pattern.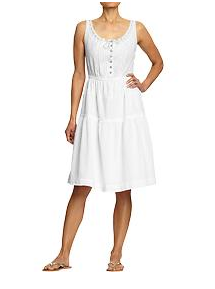 Women's Gathered Tea-Length Dresses- Old Navy
$39.94
This light weight dress is perfect just to slip on when you are running out the door. I love the buttons cascading down the front and the small bow tied around the neck.
Denim Cut-Off Short- Ralph Lauren
Price: $69.50 | Sale Price: $54.99
White denim shorts are great to put with any top- that is the awesome thing about the color white. I love this paired with the blue jeans rolled up shirt and some cowboy boots- a real country girl.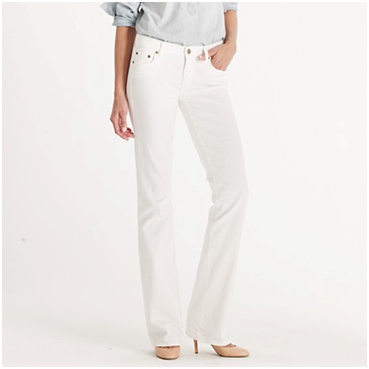 New Boot-cut Jean in White Denim- J Crew
$98.00
White jeans are great to have when you still want to wear something summery but there is a slight breeze outside. It is also great for those nights out when you just aren't feeling like wearing a dress. They will keep you warm while still looking like you fit in with the season.
Rocha- Nine West
$79.00
White heels are something that really can only be pulled out after Easter. I love pairing these with a dark garment so the white pops off your feet. A LBD and these shoes would stand out great!
SARA LONG TANK DRESS- BCBG
$198.00
This long tank dress from BCBG is great for any time of the day and any occasion. It can be worn during the day out or even as a beach cover-up. It can also be worn out for a nighttime dinner. It keeps you warm white still wearing a simple slim fitting dress and looking classy.